Clicker not found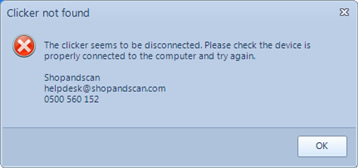 If you keep seeing the above message there are 2 things you can check:
1. Check connections
It may sound obvious but check that the cable is securely connected to both the Clicker and your PC's USB port.
2. Install USB drivers
It may be that the Clicker USB drivers need reinstalling. Click here for instructions.

Something else?
If the above does not work or you have any other problem please contact us and we'll do all we can to help.